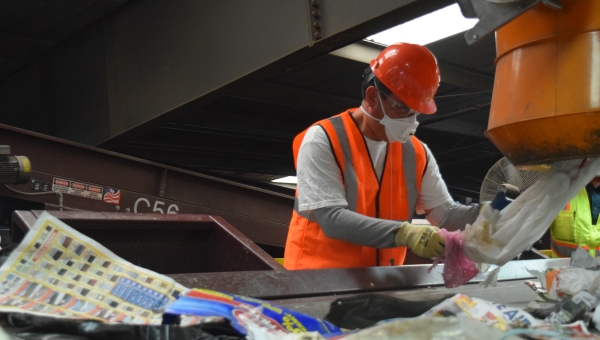 August 17, 2017 Press Releases
In Case You Missed It: Rep. Aguilar Visits Burrtec in Fontana and Announces Jobs Fair
Last week, Rep. Pete Aguilar continued his "Job For a Day" tour at Burrtec Waste Industries in Fontana, where he sorted and processed recyclable materials at Burrtec's West Valley Material Recovery Facility. This was Rep. Aguilar's fourth stop on his tour, which he kicked off in April at Mitla Café in San Bernardino.
Rep. Aguilar's tour is taking him across California's 31st Congressional District, where he works different jobs throughout the Inland Empire to connect with residents and learn more about local businesses and the communities they serve. His previous visits include Mitla Café in San Bernardino, Goodwill Southern California in Rancho Cucamonga, and Gerrards Market in Redlands. Additionally, Rep. Aguilar highlighted his Jobs Fair, which will be held on Friday, August 25th at the San Bernardino Boys & Girls Club from 10:00am to 1:00pm. Job seekers interested in attending can rsvp here and businesses interested in participating should call Rep. Aguilar's office at 909-890-4445.
Russell Ingold with the Fontana Herald News has the story, which can be read in full here.