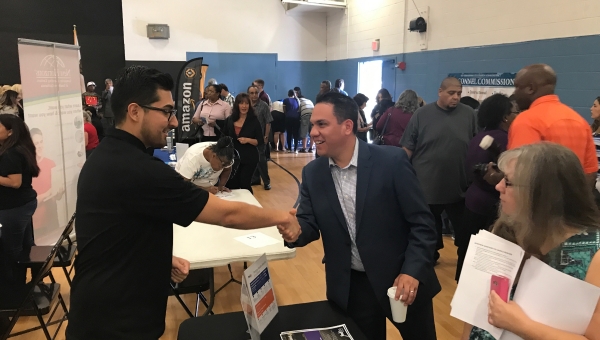 August 28, 2017 Press Releases
Aguilar Hosts Third Jobs Fair for Inland Empire Residents
On Friday, Rep. Pete Aguilar held an Inland Empire Jobs Fair at the San Bernardino Boys & Girls Club, hosting over 300 hundred San Bernardino County residents looking for work and connecting them with 58 local employers and job training opportunities. This is the third jobs fair Rep. Aguilar has hosted since taking office in 2015.
"To get our economy back on track and put Inland Empire residents back to work, we need local assistance as much as we need policy solutions. It's important that we utilize available community resources to directly connect job seekers with skills training and local employers looking to hire," said Rep. Aguilar. He added, "As our region continues to recover from the Great Recession, I'll use every tool necessary to make sure our community members have the help they need to provide for their families."
Christina Avalos, Human Resources Recruiter for States Logistics Services, Inc., commented on the event, "Not only was it well attended, but the applicants we saw were of great quality, great caliber, and had such an eagerness to work." She continued, "Because of this event, we were able to add six more people to our needs, which cut our need down by one-third, so we are very grateful."
"I think that the congressman is doing a really good job bringing this many vendors out to a jobs fair," said Colton resident Stephen Hyman. He continued, "I'd like to thank Congressman Aguilar for organizing this event."
Rep. Aguilar has prioritized legislation to create good-paying jobs, support local businesses and invest in workforce skills training. During his first term in office, he introduced five bills to help kick-start the Inland Empire economy. Last month, he reintroduced the On-the-Job Training Tax Credit Act, a bill to help local employers expand their workforce and pay for training of new hires. Rep. Aguilar has helped over 100 residents find employment with the two previous jobs fairs he hosted in 2015 and 2016. Read more about Rep. Aguilar's efforts to get the Inland Empire economy moving again here.