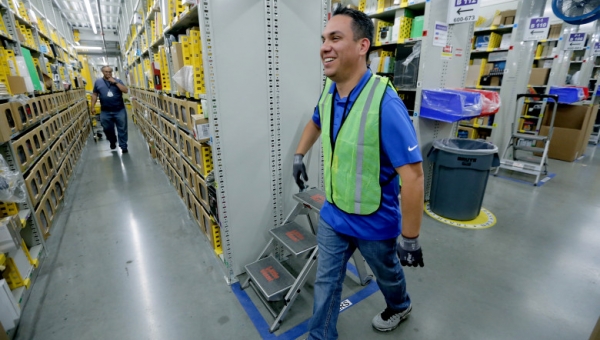 April 03, 2018 In The News
San Bernardino congressman spends day working at local Amazon Distribution Center
He started by serving food last year at Mitla Cafe in San Bernardino.
He then sorted donations at a Goodwill in Rancho Cucamonga and bagged groceries at Gerrards Market in Redlands.
Rep. Pete Aguilar, D-San Bernardino, has since processed recyclables at Burrtec Waste Industries in Fontana, sold concessions for the Inland Empire 66ers at San Manuel Stadium and volunteered as a library clerk at A.K. Smiley Public Library in Redlands.
On Monday, April 2, Aguilar continued his "Job for a Day" tour by helping pack and sort customer orders for distribution at an Amazon Distribution Center in San Bernardino.
"While the Inland Empire economy has been slow to recover from the Great Recession, Amazon has played a major part in our recovery by providing thousands of jobs for our residents," Aguilar said in a news release. "With so many members of our community employed by Amazon and other employers in the e-commerce industry, it was important for me to see what the average workday looks like."
Since beginning his tour of the 31st Congressional District last year, Aguilar has tried his hand at a new job each quarter. He has said his goal is to connect with residents and learn more about businesses in his district.
Sumegha Mahankali, Amazon San Bernardino director of operations, called it "a pleasure to show Congressman Aguilar the great people, jobs and innovation inside our fulfillment center.
"San Bernardino was home to our first Amazon fulfillment center in California over five years ago," Mahankali added, "and we are proud of Amazon's growth in this community since 2012, bringing full-time jobs with benefits on day one, career training and generous leave."
Aguilar's tour will continue through 2018.