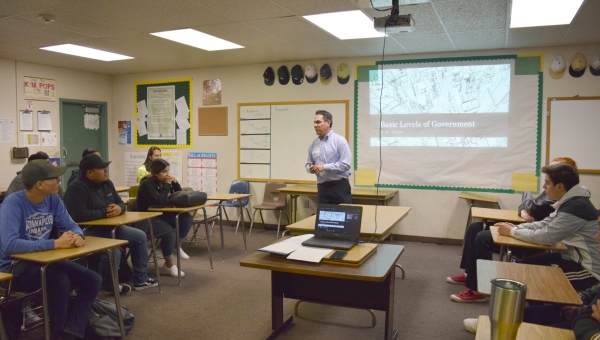 May 03, 2018 Press Releases
Rep. Aguilar Brings "Job for a Day" Tour to the Classroom
Yesterday, Rep. Pete Aguilar made the latest stop on his Job for a Day tour of the Inland Empire at Cajon High School in San Bernardino, where he taught three periods of a 12th Grade government class. His lesson plan covered the differences between the various levels of government, as well as his role as the Inland Empire's representative in Congress.
"There aren't many jobs that are more important or more challenging than being a teacher, and I learned that firsthand today," said Rep. Aguilar. He continued, "Making sure that our kids are ready for the next stage of their lives after high school is a monumental responsibility, and I have so much appreciation for the people who do this each and every day. My Job for a Day tour is all about connecting with the hard-working people who drive the Inland Empire, and today I was lucky enough to spend time with the next generation too."
Rep. Aguilar decided to try out teaching for a day after it was the top result in a constituent survey earlier this year asking which jobs he should try in 2018. This is the eighth stop Rep. Aguilar has made on his Job for a Day tour, and the third this year. The tour gives him an opportunity to work alongside Inland Empire residents in a wide range of jobs so that he can better understand their concerns and be a better advocate for them in Congress.