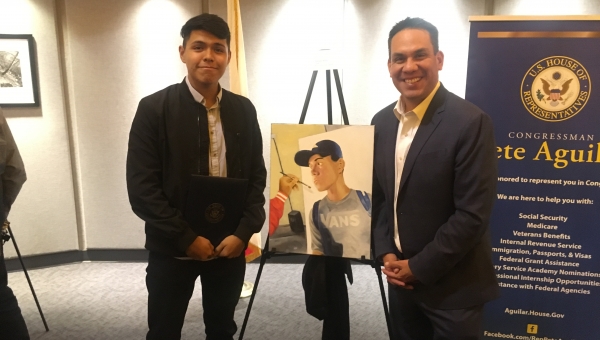 May 04, 2018 Press Releases
Rep. Aguilar Announces 2018 Congressional Art Competition Winner
Last night, Rep. Pete Aguilar held an awards ceremony at the San Bernardino County Museum to announce the 31st Congressional District's winner of the 2018 Congressional Art Competition, a nationwide competition that allows high school students to compete for a chance to have their original artwork displayed in the United States Capitol Building for one year. Rep. Aguilar joined a panel of judges in selecting "Artist in the Making," a painting by Wilmer Amina Carter High School student Leonardo Bueno, as this year's winner. In addition to having his painting displayed in the Capitol for the next year, Leonardo will receive free airfare to Washington, DC courtesy of Southwest Airlines to see his artwork and meet with winners from the other Congressional districts.
"Every student who entered this year's competition displayed an extraordinary amount of talent and creativity, and I know the judges had a hard time making the decision this year," said Rep. Aguilar. He continued, "This competition really shows how important art is as a creative outlet for our kids and I'm so proud to be able to show off the work of an Inland Empire student in the Capitol."
Arroyo Valley High School student Jamie Lopez came in second place for her piece, "To Think and To Dream" and Rialto High School student Hillary Wongkar came in third place with "Learning to Trust." Both the second and third place submissions will be displayed in Rep. Aguilar's San Bernardino office for one year.