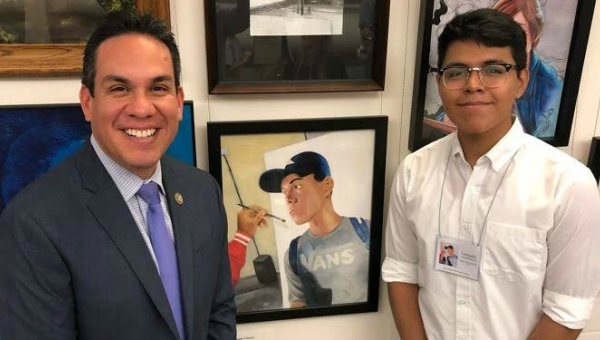 July 03, 2018 Press Releases
Aguilar Hosts Congressional Art Competition Winner in Washington
Last week, Rep. Pete Aguilar hosted Leonardo Bueno, a student at Rialto's Wilmer Amina Carter High School and the winner of the 2018 Congressional Art Competition for California's 31st District, at the US Capitol. The Congressional Art Competition is an annual contest in which one high school student from each Congressional District is selected to have their work displayed in the Capitol for a year. The competition is sponsored by Southwest Airlines, who covers airfare for the winning students from each district to attend a reception in Washington, DC.
"Spending time in the Capitol with Leonardo was an honor," said Rep. Aguilar. He continued, "There are so many talented students in our region, and I'm proud to have this platform to show off some of that talent and have a piece of the Inland Empire on display here in our nation's capital."
"It was an incredible experience to meet some of the other artists and to see hundreds of pieces of art displayed in the Capitol building. I'm proud that I had the chance to represent the Inland Empire in Washington last week, and that my work will be on display for visitors to the Capitol to see over the next year," said Leonardo Bueno.
As part of his trip to Washington, Leonardo attended a reception with the other art competition winners from throughout the country. His winning painting, "Artist in the Making," will be on display in the Capitol building for the next year. Leonardo was announced as the 31st District's winner of this year's Congressional Art Competition at a reception hosted by Rep. Aguilar in San Bernardino in May. Arroyo Valley High School student Jamie Lopez was the runner-up for her piece, "To Think and To Dream" and Rialto High School student Hillary Wongkar came in third with "Learning to Trust." The second and third place submissions will be on display in Rep. Aguilar's San Bernardino office for the next year.