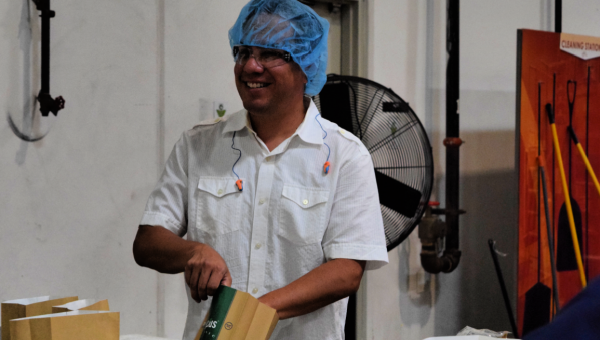 August 20, 2019 Press Releases
Aguilar Works "Job for a Day" at Anita's Snack Foods in San Bernardino
Last week, Rep. Pete Aguilar (D-San Bernardino) took his Job for a Day tour of the Inland Empire to Anita's Snack Foods in San Bernardino. Aguilar spent the day packing and preparing Anita's products for shipments, providing him an opportunity to learn more about the business and hear from Inland Empire residents who work there.
"Companies like Anita's are creating good jobs in our community by focusing on quality and innovation, and I wanted to see up close what's made their business a success. My Job for a Day tour is all about spending time with working people and learning how I can better serve Inland Empire businesses and families, and I'm grateful I had the opportunity to do that at a business with such deep roots in Southern California," said Aguilar.
"It was a great pleasure to have Congressman Aguilar visit and work in the facility. It was great to hear that we all shared the same passion and point of view on the need to develop our workforce. The Congressman's willingness to meet the team and jump into some of our daily jobs shows his commitment and dedication to the people of San Bernardino County," said Mauro Gomez, Vice President of Sales at Anita's Snack Foods.
Aguilar began his Job for a Day in 2017 to work side by side with the employees and small businesses who drive the Inland Empire economy. This is the tour's fourth stop in 2019, and twelfth stop overall.