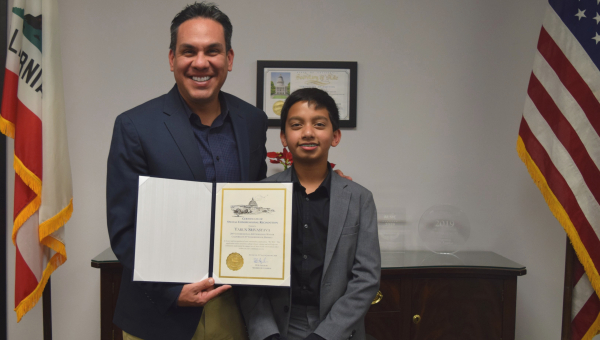 January 29, 2020 Press Releases
Aguilar Announces Congressional App Challenge Winner
Rep. Pete Aguilar announced that Redlands High School student Varun Srivastava is the winner of the 2019 Congressional App Challenge for California's 31st Congressional District. Varun's app, We Will, educates users about the connection between human activity and climate change and helps users monitor and reduce their own carbon footprint.
"The Congressional App Challenge is a way to spotlight some of our region's best and brightest students, and the work our local school districts are doing to incorporate STEM learning into classrooms. Not only was I impressed by Varun's coding ability, but I was blown away by his commitment to educating our community about the seriousness of climate change, and how our individual actions can help mitigate the climate crisis. I was proud to name him as this year's winner," said Rep. Aguilar.
Redlands Unified School District Superintendent Mauricio Arellano added, "Varun is an outstanding young man and one of our brightest students, so the fact that he was selected as this year's winner isn't surprising. Our district has made a commitment to increasing innovation and 21st century learning experiences for our students, and Varun's app reflects that."
"The award is a great honor for me, and I am proud to bring this honor to Redlands Unified School District. It has encouraged me to continue the work through our STEM club at Redlands High school and STEM for All Foundation. It has also given me the platform to inspire my peers to learn coding and I am encouraged to compete next year with a group of students from my high school," said Varun.
As this year's winner, Varun received an invitation to the #HouseOfCode reception in Washington, DC where winners from each of the participating congressional districts have the opportunity to demonstrate their apps. More information about We Will and Varun's app challenge submission video can be found here.