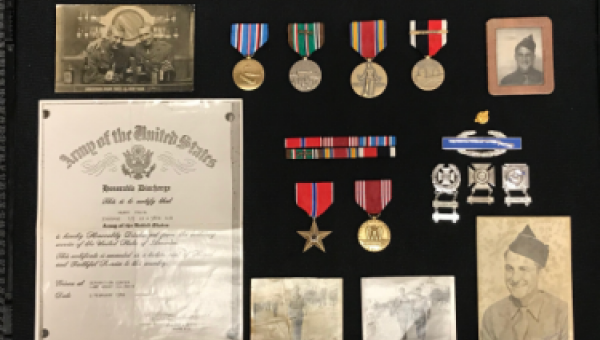 September 04, 2020 Press Releases
Aguilar Presents Medals to Family of World War II Veteran
Yesterday in a virtual ceremony, Rep. Pete Aguilar presented eleven medals and commendations to the family of Tech Corporal Murry Pruyne, a veteran of World War II. After nearly twenty years of trying to retrieve his father's medals, Donald Pruyne of Fontana contacted Rep. Aguilar's office in June of this year and Rep. Aguilar was able to secure the medals shortly after. Rep. Aguilar presented the medals to the Pruyne family in a virtual ceremony held yesterday.
"It's not every day you get the chance to pay tribute to an American hero, so when Mr. Pruyne reached out to our office we got to work right away to help. Tech Corporal Murry Pruyne played a role in liberating Europe from fascism, and securing our own freedoms here at home. It was an honor to present his family with the medals he so valiantly earned," said Rep. Aguilar.
"After nearly twenty years trying to retrieve the medals my father earned on the battlefields of Europe, I finally contacted Congressman Aguilar's office. The Congressman was able to help me recover the medals and properly honor my father's legacy and service. This presentation meant the world to my family and me," said Donald Pruyne, son of Murry Pruyne.
The medal presentation ceremony was held via Zoom in accordance with social-distancing guidelines. The full ceremony can be viewed here.