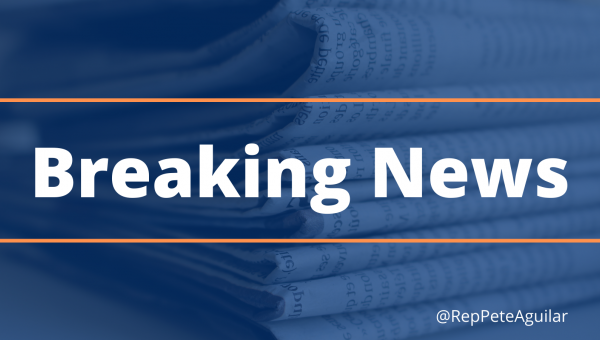 December 04, 2020 Press Releases
Aguilar Announces $2.5 Million for Alzheimer's Therapy Research
Rep. Pete Aguilar announced $2.5 million in federal funding for Karamedica, Inc. for their work developing a microparticle gene delivery therapy to treat a form of Alzheimer's Disease. The funding comes from the Department of Health and Human Services (HHS) National Institute on Aging, and will allow Karamedica to hire more scientists and researchers in Southern California. The project is being conducted by a consortium of institutions including Loma Linda University and University of California, Riverside.
"I'm proud to announce this funding, which will create research jobs here in the Inland Empire and keep our region on the cutting edge of medical innovation. Anyone who's been affected by Alzheimer's knows we must act urgently to beat this disease, and I'll continue to support funding that will lead us to new treatments and an eventual cure," said Rep. Aguilar.
"My mother lived and passed away from Alzheimer's disease and it was heartbreaking to see how much she lost during the course of the disease—so many abilities that had kept her such an independent and incredible woman. Nobody should experience what my family had to experience. We need more funding to find a cure for this disease. I'm thankful for Congressman Aguilar's support," said Angelika Pittet, an Alzheimer's research advocate from San Bernardino.
"These funds will allow Karamedica to continue to develop a treatment for Cerebral Amyloid Angiopathy. We will be hiring additional scientists to work in Southern California and are pleased to be partnering with top tier institutions on this project including Loma Linda University, UCLA, UC Riverside, and North Carolina State University," said Dr. Wolff Kirsch, MD, Chairman and CEO of Karamedica.
Rep. Aguilar serves as Vice Chair of the House Appropriations Committee, the committee responsible for providing funding to HHS and other federal agencies.