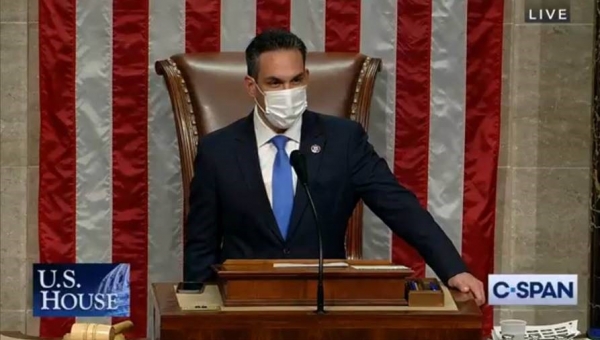 March 19, 2021 Press Releases
Aguilar Votes to Pass Landmark Bipartisan Legislation to Protect Dreamers, TPS Holders and Farmworkers
Today, the House of Representatives passed H.R. 6, the Dream and Promise Act, and H.R. 1603, the Farm Workforce Modernization Act. H.R. 6 establishes a pathway to citizenship for Dreamers, young people who came to the US as children and have established lives here, and Temporary Protected Status (TPS) holders and those with Deferred Enforced Departure (DED) status, immigrants who came to the United States to flee dangerous or unstable conditions in their home countries and have since built lives and raised families in the US. H.R. 1603 establishes a pathway to citizenship for farmworkers who have lived and worked in the US for years.
Rep. Aguilar presiding over debate on H.R. 6, the Dream and Promise Act.
"San Bernardino County residents know that immigrants are a crucial component of our community. In the Inland Empire, they're students and teachers, doctors and nurses, first responders and frontline workers. They deserve to know that they have a home here, and they can continue to build their lives without fear of deportation or being separated from their families. The same is true of the farmworkers who've spent years in our country working to keep food on the tables of the American people. I was proud to preside over debate in the House of Representatives today, and of the bipartisan vote to pass these much-needed reforms to our immigration system," said Aguilar.
A Member of the Congressional Hispanic Caucus, Rep. Aguilar has worked throughout his time in Congress to establish a path to citizenship for immigrants who've called the United States home for much of their lives. In February, he introduced legislation to help Dreamers become homeowners by making them eligible for Federal Housing Administration (FHA) backed loans, and in the 116th Congress, he successfully passed legislation to allow Deferred Action for Childhood Arrivals (DACA) recipients to serve their country as federal employees. Rep. Aguilar is the Vice Chair of the House Democratic Caucus.