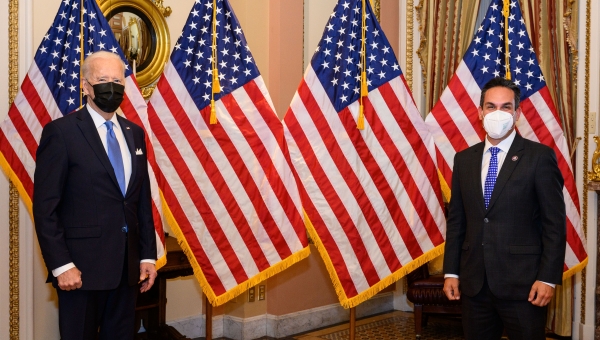 April 29, 2021 Press Releases
Aguilar Statement on President Biden's Address to Congress
Today, Rep. Pete Aguilar issued the following statement in response to President Joe Biden's first address to a Joint Session of Congress:
"Tonight, President Biden laid out a bold vision for our country's future. He made clear that we are in a unique moment in American history, and that we must work together to continue empowering the American people to come back from the pandemic stronger than ever before. His announcement of the American Families Plan marks a historic opportunity to raise families out of poverty, provide all American children with the opportunity to succeed through education, and invest in working people to strengthen the middle class. From ending gun violence to reforming our broken immigration system, the president recognizes the challenges we face and is ready to pursue good policy solutions to meet those challenges head-on. I look forward to working alongside him and with my colleagues in Congress to continue delivering relief and creating more opportunities for the American people and communities like the Inland Empire to succeed."
Rep. Aguilar serves as the Vice Chair of the House Democratic Caucus and was a member of the bipartisan group of lawmakers who escorted the president into the House Chamber ahead of the address.