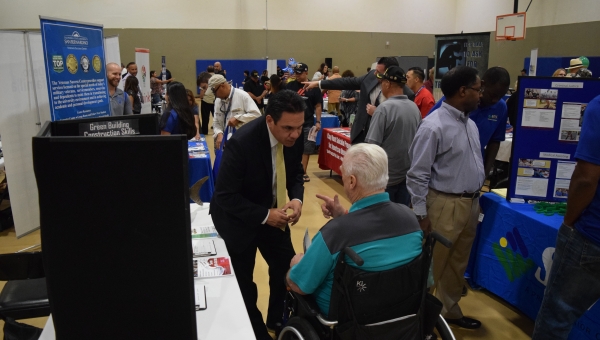 August 18, 2017 Press Releases
Aguilar Hosts Veterans Resource Fair for Inland Empire Community
Today, Rep. Pete Aguilar hosted a Veterans Resource Fair at the Frank A. Gonzales Community Center in Colton. The event provided Inland Empire veterans with resources on health care, housing, employment and assistance with VA claims.
"This event was about getting our veterans the help, care and resources they need and deserve," said Rep. Aguilar. He continued, "I'm glad that our veterans were able to connect with our local veteran service organizations, and I'm grateful that we had so many groups that participated. We can and must do more to help our heroes when they come home, and that responsibility starts right here in the Inland Empire."
Gary Lemos, a San Bernardino U.S. Marine Corps veteran, thanked the congressman for holding the event saying, "There were a lot of resources that I had no idea existed. I've been to a few before but I didn't see as many resources as I did at this one. It was a really good, positive experience."
Rep. Aguilar is committed to helping veterans get the assistance and resources they need to live healthy and happy lives. Ahead of his resource fair, Rep. Aguilar invited veterans to share their experiences with the Loma Linda VA to identify ways to improve care, responsiveness and accountability in veteran health care. Additionally, earlier this year, Rep. Aguilar's bill to help active-duty service members and reservists translate the skills the acquired in the military to jobs at home passed the House of Representatives. The bill provides active-duty members access to the same unique training and testing standards for a commercial driver's license granted to veterans in the latest surface transportation bill.
Rep. Aguilar's 2017 Veterans Resource Fair is one of many constituent service events he's holding this year. Just last month, he held a Senior Fair for over three hundred residents and next week he'll host his third Jobs Fair. Rep. Aguilar's office also holds regular Mobile Office Hours to assist community members who need help accessing federal agencies. Directly connecting Inland Empire families with the help and resources they need is one of Rep. Aguilar's top priorities. In his first term of office, he helped nearly 900 constituents with problems they faced with federal programs like Social Security, Medicare and veterans benefits.